Eurail Information (in depth):
How much money can you save by purchasing a Eurail pass?
Talk to any student who has been to Austria and they will have a strong opinion as to whether or not a Eurail pass is a good option.  If used correctly, we believe it can be your best option.
Is it cheaper to buy a Eurail pass or to buy tickets as we go?
It is important to note that since the rise of budget airlines, train companies have changed their pricing model.  They usually offer cheap early-bird prices and expensive last-minute fares.
Conclusion: A rail pass is all about saving money.  If you are going to save money the pass is worth it.
 The Math: How much I spent
Doing the math can be a time consuming process, but it's the only way to figure out which (if any) of the passes might be worth purchasing.
Train tickets usually go on sale about 90 days in advance.  As mentioned above, prices tend to be cheaper the further in advance that you purchase them.  Most students don't plan much in advance for this semester in Europe.
This brings up one of the best features regarding the Eurail pass: flexibility. Being able to hop on and off trains when you want, and not worrying about paying very high prices in order to book a train the week of.
If you are planning to travel around Europe without fixed plans, rail passes will be an excellent choice.
As mentioned above, It's all about money when it comes to these passes.  If you are going to save money, you want the pass. 
When to purchase a Eurail Pass
You can wait till you're in Gaming to buy a Eurail pass, but you'll need to order it at least 1-2 weeks before your first trip so you can be sure the pass arrives on time. Some students purchase their Eurails before the semester, especially if there's a good sale at www.eurail.com while other students wait till they're in Gaming to order their passes.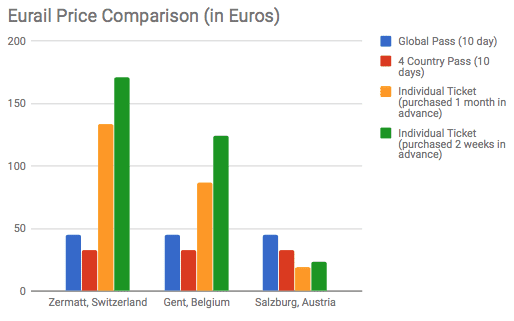 ***Individual tickets include OBB Vorteilscard (discount card)
Mix and Match
Using the rail pass for the expensive trains while paying for cheap tickets individually so you can maximize value.
Rail passes are all about math
After you have a general idea as to where you want to go, visit the national railway websites and work ut two sets of prices: one for tomorrow (i.e. last-minute fare) and one for two months from now (i.e. an early-bird fare).  Add up the prices in each category.
Next, head to Eurail, find your rail pass, and divide the rail pass price by the number of days you'll be traveling by train to figure out the cost of each journey on the pass.
(ex: if I bought a 10-day pass for $600, the cost-per-day is $60)
In the end, a train pass isn't right for all trips, but for most, if you are spending a long time in Europe and traveling vast distances and using high speed, having a Eurail pass will save you money and you should get it. 
Different Pass Options
In order to save money, it is important to purchase the right pass and plan your trip well.  Purchasing train tickets at the last-minute will be very expensive (sometimes twice as expensive compared to planning ahead). Someone who plans on planning trips the week of, will certainly enjoy the flexibility provided by having a Eurail pass.  Many students don't know where they will be traveling two weeks in advance.
Many students are familiar with the 10-day global Eurail pass, but are not aware that other options exist.  One should also take a look at the various "select passes."  These will be an excellent option for a student who plans on taking a number of high-speed trains within a selected number of countries (2, 3, and 4-country passes are available).  These "select passes" offer anywhere from 4 to 10 traveling days.
For students who plan on training every weekend (as well as 10-day) the 10-day over 2 months Eurail Pass can be a great option, but isn't for everyone.
What does "10 days over 2 months" mean?
         This means that your Eurail is valid for 2 months from the first day you use the pass. We've designed the semester calendar in such a way that most of the extended travel happens within a 2 month window.
What is one Eurail day?
For your Eurail pass, the day begins at 7pm the previous night and goes 29 hours till the following midnight. For example, if I get on a night train at 8pm on a Thursday night and travel until Friday at 10pm, I've only used one day of my Eurail pass.
Things to Keep in Mind:
Traveling to Western Europe (especially Scandinavia, Belgium, Netherlands, Luxembourg, France and Switzerland) the

Eurail Pass

will save you a lot of money as these point-to-point tickets are very expensive.
If you plan on visiting countries in Eastern Europe and the Balkans, a

Eurail Pass

won't usually be your best option as training to these areas isn't usually efficient.  (If you are planning on going to Greece for 10-day, a flight will certainly be your best option).

 
Isn't flying faster and cheaper? 
A one-hour flight from Vienna Airport will usually take you at least 5 to 6 hours—considering that it usually takes 2 1/2 to 3 hours to bus/train from Gaming to the airport.