For those of you who don't know, I recently returned from a semester abroad in Gaming, Austria – Franciscan University's study abroad program. I also blogged about it here if you are interested in reading more about that experience. To sum it up, it was the semester of a lifetime. I traveled to 7 different countries, spent 24 days in Italy, from Venice all the way down to Sicily, and soaked in every adventure and every moment while abroad. I prayed, lived, laughed, made new friends, strengthened old friendships, met new people, spoke new languages (well, phrases of the languages) and overall, absolutely enjoyed every moment. 
One might be tempted to think that after a semester like that it would be difficult to adjust and come back to the States and to Franciscan University's Main Campus. Fortunately for me, that is far from the truth! 
First of all, it was wonderful to see my family over Christmas break. I got to spend great quality time with my two younger brothers and spending time with my parents was such a blessing. We all caught up with stories from the past semester and had our own adventures throughout the break.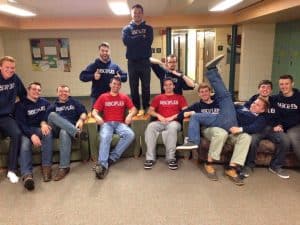 Most of all, I am excited to be back on Franciscan University's Main Campus. There is such a vibrant community here at Franciscan University and I am excited to be back on campus and involved again. I am a member of Disciples of the Word household and am living on our household "wing" (the section of the residence hall where we have our household common room and many other household brothers live) and it is so good to be back with all of my household brothers. I am living as a next-door neighbor to 8 other household brothers! Household life is one of the most unique aspects of life at Franciscan University and it is so good to be back with all of my brothers on main campus. 
I have only been back on main campus for about a month and I have already had the opportunity to go to various household commitments such as morning mass and breakfast, Lectio Divina bible study, rosary and Lord's Day, and other campus events such as a Men's Ministry Event, two dances, a Pajama-Rama, multiple NCAA Men's and Women's Basketball Games, two coffee houses and a few talks hosted on campus, and these are just the on-campus events I have participated in! All of these events and opportunities have shown me that there are so many chances for me to go on adventures here in the States and here on main campus.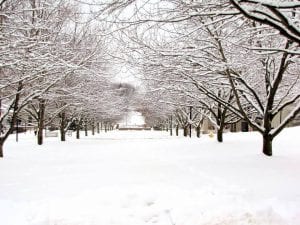 Another one of the blessings of spending a semester in Austria is that when you come back to main campus you have a fresh perspective. I've traveled the world and made new friends and now that I am back on main campus I get to re-experience so many aspects of campus life that could be taken for granted. I am able to re-connect with friends I haven't seen in a while, and I have new friends I made in Austria here on main campus. There are so many new faces on campus that offer me the opportunity to make new friends and get to know other people. I have a fresh perspective in my classes when it comes to discussions or homework assignments. I can pull from the adventures and experiences I had while abroad during these discussions and assignments. The list goes on and on for the ways I have been blessed by studying abroad and blessed by being at Franciscan University.
I am continually learning to appreciate each day as a new adventure, seek to find the Lord in everything I do, and live the life I've always imagined here at Franciscan University. I am looking forward to an amazing semester.